Folder Icons for Win32 is a simple program that allows you to assign an individual icon to any folder on your system.
Installation
Since most components you need for this feature are already installed on your system, installation of Folder Icons for Win32 is quite simple. Just create a folder, and copy the file "Folder Icons for Win32.exe" into it. That's it. If you want to, you can also create a shortcut to the executable file on your desktop or anywhere in the start menu, but as you will see later, this is not really necessary. I will call the folder to which you copied the executable file the installation folder.
Starting Folder Icons for Win32
Folder Icons for Win32 can be started in two ways. One way is by double-clicking the program file in the installation folder. Folder Icons for Win32 then asks for the folder, whose icon you want to change. Just browse to the folder and then click on the OK button.
The other way is by using the context-menu of Explorer, if you have that option enabled in the Folder Icons for Win32 setup. Just right-click on any folder and select the "Icon..." menu entry from the context-menu that pops up. Explorer will then launch Folder Icons for Win32 for the folder you selected.
Using Folder Icons for Win32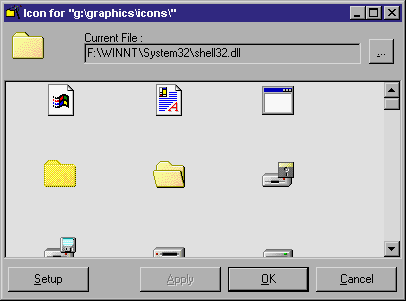 The main screen of Folder Icons for Win32 presents you with a set of options :
In the upper left corner, you see the current icon for the folder.
The filename displayed under "Current icon file" is the file of which the icons below are displayed. This is "<WINDIR>\SYSTEM32\Shell32.DLL" for unchanged folders.
The button to the right of the name of the current icon file allows you to choose another file as the source. Just browse to the icon library or icon file you want to use instead and select it.
The large area below the filename displays all icons contained in the currently selected icon file.
The "Setup" button displays some information about Folder Icons for Win32 and also allows you to install the context-menu for Explorer. I recommend that you do this - it makes life much easier.
The "Apply", "OK" and "Cancel" buttons work like you would expect them to. Note that "Apply" only gets enabled when there are any actual changes to be applied and both "OK" and "Apply" only get enabled when there is a selected icon in the list of icons above. A common error is to forget to mark the icon that you want to be used from the list of icons.
For your convenience, the main window can be resized, but if you resize it to a too small size, the buttons will overlap. Just don't do that if you don't like it.